The second call closed with 53 project proposals
The second call for project proposals closed today on 10 March 2023 at 12:00 (EET).
A total of 53 project proposals were submitted to Jems in due time, 45 of which are regular projects and 8 are small projects. Below is an overview of the number of submitted project applications by each Programme Objective.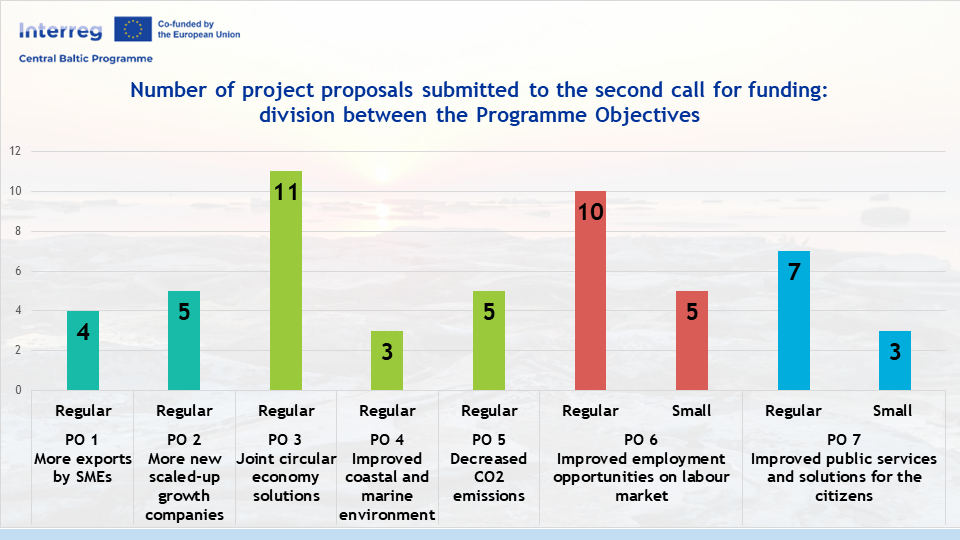 Many thanks to all applicants for submitting the project application in Jems in due time.
A more comprehensive statistical review will be published next week.
Next steps
The received applications are assessed by the Joint Secretariat. The decisions are taken by the Monitoring Committee consisting of representatives from each participating Member State. The meeting will take place on 7-8 June 2023. The list of approved small project acronyms and regular projects selected to continue to the second step will be published on the programme website on 8th of June, based on the Monitoring Committee's decisions.
As for the second step for regular projects, the time for submitting the full application in Jems is 25.09-16.10.2023. The second step decisions will be made in early February 2024.